Are you looking for online courses related to R programming language and technology? If so, look no further – this Datacamp review is for you.
I decided to write down this detailed Datacamp review on the request of my friends who determined to take up Data Science and Machine Learning as a career often asked me "Is Datacamp worth it in 2021?"
So all in all, in this interaction you will get to know everything you can learn from DataCamp (majorly Data Science) and how it will be benefit you as an MBA student. By the end of it, you will be able to decide as to whether you should go and buy DataCamp or not.
$0/MONTH Free DataCamp Subscription
Looking for free online courses? Subscribe to DataCamp's free plan & start learning at zero cost! 
Start Learning For Free
This is an online company that has gathered different data-related courses in one place. The provider has various classes mainly on R, Python, and SQL but also there are classes on Spreadsheets, BI, Tableau, and other topics. Those courses can be taken separately or as a set in frames of skill tracks or career tracks.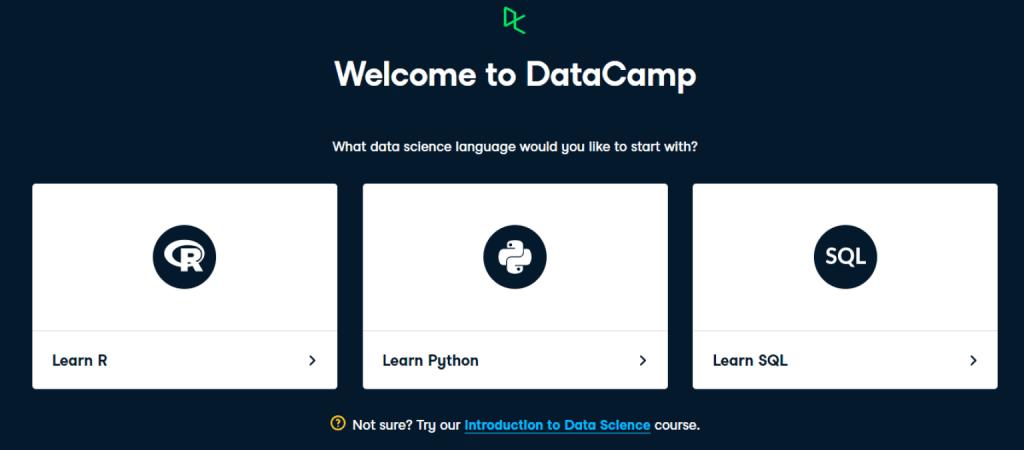 In a nutshell, the company includes more than 340 courses which are a combination of videos with practical assignments, over 50 curated learning paths, and more than 50 real-life projects.
As for its features, DataCamp offers skill assessments where you can measure what is your current level of a particular skill. Also, the company has its mobile app (available on App Store or Google Play) where one can practice everywhere with their daily 5-minute coding challenges.
While DataCamp courses can be good for anyone, they will be the most beneficial for the following three groups:
People who are planning to start a data-oriented career as a Data Scientist, Data Analyst, or Python Software Developer. 
Those who want to improve skills in related fields like online marketing – so that you can better analyze, visualize, and report marketing data as well as make data-driven decisions.
People who just need to improve certain skills needed to become more proficient in working with data (for instance, for Digital Analysts who need to gain or improve knowledge of BI or Tableau).
All in all, this e-learning provider works best for beginners and intermediate-level students.
Something which most of us ask when considering an e-learning platform – Is this platform legit? Will it be worth my money?
It is completely normal to have that moment of doubt.
Datacamp was founded in 2013 as a start-up company in Belgium. The company was founded by Dieter De Mesmaeker, Martijn Theuwissen and Jonathan Cornelissen. Its headquarters are based in New York and they have offices in Belgium and London.
So, Datacamp is legit and it is safe to use, you won't be scammed.
Datacamp Plans and Pricing
Most of the time I talk about Datacamp, I always hear one question. And this comes across as a big point of confusion. The question is – 
Are Datacamp courses free?
The answer is NO. Datacamp courses are not free and you need to take up a subscription if you wish to complete a course and get the certificate. However, for a select number of courses, the first chapters are for free, Again, to proceed to the next chapter you need to buy their subscription.
Having clarified that on extreme common doubt, let me take you to another question which is – 
How much does Datacamp cost?
Datacamp pricing follows a three-tiered structure. I already told you about the free tier that does not give you any courses completely.
Next up, is the Basic Plan which would cost $25 per month when billed for a year and $29 when billed monthly. But then comes the grand-daddy tier, the Premium Plan. This plan would cost you $33 per month when billed for a year.
Datacamp Data Science Python Career Track
This program includes 23 courses and takes about 88 hours to complete it. It covers basic Python topics like data types and functions and then proceeds to more data-focused ones like Data manipulation with Pandas, Data Visualisation with Matplotlib and Seaborn. The track also includes classes on Statistics and Machine Learning. 
This program provides 7 projects for practicing.
You don't need to have any prior programming experience for enrolling.
Among similar courses on Python are Data Analyst, Machine Learning Scientist, and other courses
Machine Learning Scientist with Python
This career track runs 93 while consisting of 23 single courses. This program is aimed at teaching how to train models, evaluate their performance and improve or customize it by tuning parameters. This track also covers such topics as NLP, working with images and using Spark and Keras (Python libraries).
This career track runs 76 hours and consists of 19 courses. It shows how to effectively work with data – structure, import, clean, or visualize it. It also touched statistical and machine learning techniques as well as the most popular R packages.
Among other R career tracks are R Programmer, Machine Learning Scientist with R and others.
One of the best programs to become acquainted with this technology is SQL Fundamentals, a skill track that includes 5 courses and lasts 21 hours. This track shows what SQL is, how to join and perform other actions with data. Moreover, it teaches how to work with data in PostgreSQL.
Among other skill tracks focused on SQL are two: SQL Server Fundamentals and SQL Server Toolbox.
$0/MONTH Free DataCamp Subscription
Looking for free online courses? Subscribe to DataCamp's free plan & start learning at zero cost! 
Start Learning For Free
How to cancel the Datacamp subscription?
To do this, you need to click on your name on your profile photo. Then, choose 'Subscriptions' and 'Stop Automatic Billing' and confirm the action.
Does Datacamp have discounts?
If you are interested in lower prices, right now, Datacamp doesn't have any promo actions; however, sometimes the company offers such.
How do I access Datacamp for free?
To join Datacamp for free, you just need to sign up with your email, choose the course, and enroll. However, you will have access to the introduction part only at no charge.
fter reviewing all the aspects, it seems that the Datacamp subscription is worth paying for it. Generally, the provider gives more benefits for beginners than for professionals but it depends on the course. All in all, it's a narrow-focused online company (which often highlights its proficiency in the domain) that is a good choice in terms of value/money.