Viome founder and namesake Naveen Jain Viome launched the brand in 2016 with the mission to "prevent and reverse chronic diseases by decoding human biology" and to "help individuals everywhere to gain control of their health and wellness."
Viome's medical testing uses artificial intelligence and metatranscriptomic sequencing technology to diagnose deficiencies and ailments in your body, and make recommendations on foods and supplements to help address them and keep you healthy.
Viome's technology determines what is going on in your gut's microbiome—the system of microbes that protect us against germs, breaks down food, and produces vitamins—and their AI engine then analyzes your data and compares it to scientific literature, expert knowledge from their team of scientists, and other sources to create your specific dietary recommendations.
What is a gut microbiome test?
Your gut microbiome includes the bacteria, viruses, fungi, and other microbes that live in your intestines. These microorganisms are essential for moderating digestion, the central nervous system, and the immune system.
A gut microbiome test can look at the composition of the different types of microbes within your gut. These tests are performed by analyzing stool samples.
Typically, a gut microbiome test looks for yeast overgrowth, immune and inflammatory markers, bacterial overgrowth, parasites, and beneficial microbes. They also identify markers for common issues like calprotectin, which is associated with inflammatory bowel disease (IBD).
1. Order your kit
To get started with Viome, you can purchase one of its four testing options (Precision Supplements Complete, Precision Probiotics and Prebiotics, Health Intelligence Test with Gut Intelligence, and Gut Intelligence test). Next, you'll receive your test kit in the mail. Shipping is free.
2. Collect your sample and mail it in
Collect your sample (blood, stool, or both, depending on your testing kit) and send it back using the prepaid mailer provided by Viome.
3. Get your results
Once Viome has received your sample, the lab processes it and gives you your results within 3 to 4 weeks. You can review them through your account on the Viome site and the accompanying app.
Your results will show what microbes were found in your gut microbiome, along with numerical scores in categories like metabolic fitness and digestive efficiency. It will also provide diet and lifestyle recommendations based on your score and your sample analysis.
The test results also outline a personalized list of what foods you should avoid and what foods you should eat. These conclusions are based on an analysis of the bacteria, fungi, mold, and other microbes found in your gut.
The foods to avoid may be based on whether your microbiome can properly process those foods or if you're unable to absorb their nutrients. (However, it's important to note that these suggested food restrictions may be incompatible with your overall nutritional needs.)
If you signed up for the subscription kit with supplements, you'll receive monthly shipments of Viome supplements based on your results. You can pause and resume your subscription by logging into your account on the site or the app. To cancel, you need to call the company.
What do Viome tests tell you?
Viome's tests analyze your samples to determine various markers of health, including:
biological age (based on cell function and DNA damage)
energy levels
gut microbiome health
stress response
cellular health
immune system health
Viome maintains that its tests can help people achieve better digestion, more energy, weight loss, a more efficient metabolism, and better sleep.
What types of tests does Viome offer?
Precision Supplements Complete™
Personalized Supplements & Probiotics for gut + cellular health
The annual Precision Supplements Complete is Viome's most comprehensive test. This plan takes a deep look into your microbial, human, and mitochondrial gender expressions to inform the Viome team how your microbiome health is affecting other areas of your body.
This plan includes two Health Intelligence tests per year that are delivered to you every six months. You'll need to collect your blood and stool samples for this test, and the analysis will reveal your biological age, cellular function health, immune health, energy levels, and stress response.
When your results arrive in about 2-3 weeks, Viome will send you Precision supplements, probiotics, and prebiotics monthly according to the plan they have devised for you. Following the next text six months later, your formulas will be updated according to the new set of results.
Customers who subscribe to this plan will also have access to discounts on any additional Viome tests they would like to purchase, and the subscription can be paused at any time.
Precision Probiotics + Prebiotics™
Personalized Probiotics + Prebiotics for gut health
We owe our guts more than we give them. An unhealthy gut can not only make us feel bloated and tired, but is also linked to weight gain and depression.
Get better acquainted with your gut with the Precision Probiotics + Prebiotics plan. This Viome subscription is designed to help bring balance to our gut and boost immune health, as well as reduce bloating and aid in digestion, among many other benefits.
This plan gives you one Gut Intelligence test per year, which will provide analysis of over 20 areas of essential gut health, including your digestive efficiency and inflammatory activity.
After receiving the results of the test, you will receive a specially designed regime of probiotics and prebiotics delivered to you monthly, as well as food recommendations from the Viome team and insights on how to improve and maintain gut health.
You'll also get discounts on any other Viome tests you'd like to try during your subscription term.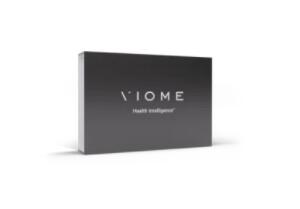 Test Health insights and nutrition to support gut + cellular health
The Health Intelligence test dives deep into your genetic makeup, covering everything from your gut to your mitochondria. Along with your results from this one-off test, Viome will provide you with health insights and recommendations to help you improve on any important areas where you may be lacking. 
Here's what you'll get with the Health Intelligence test kit:
Your comprehensive Health Intelligence test, which includes the Gut Intelligence test (also available separately)
Over 30 scores analyzing areas like your overall health, energy, and stress response 
Personalized list of foods to eat and avoid
Recommendations for supplements
This test involves taking a blood and stool sample, and your results will be downloaded to your app in 2-3 weeks. Viome's physicians will recommend a unique blend of vitamins, food extracts, herbs, amino acids, and probiotics and prebiotics. 
This kit does not include the cost of your first round of supplements, but you can purchase them before you check out, or order them monthly whenever you like. 
Test Health insights and nutrition to support gut health
Our guts are wonderfully complex things, and if we provide them with unhealthy or unbalanced diets we can not only negatively impact our digestive health, but also lay the groundwork for potentially larger health issues that we never would have connected to an unhappy gut.
The Gut Intelligence test zeroes in on exactly what's going on inside of your body's processing center. The kit comprises a single, at-home stool test along with a questionnaire. The results from the test are then subjected to a complete gut microbiome health analysis to let you know if your lifestyle is helping or harming your gut (and overall) health. 
Viome will also supply you with a personalized 90-day nutrition plan that will tell you which foods to enjoy, avoid, or minimize in your diet, and which supplements to take. Supplements are available for purchase at any time on the brand website.
To this Viome review, and probably to anyone who suffers with any kind of ailment, getting an explanation for the way you feel is incredibly helpful. And getting advice on how to heal yourself naturally is even more helpful. 
Viome's services come with a hefty price tag in order to provide us with this, but given the benefits, that cost is not outside of the realm of reason. Good health, a happy mood, abundant energy, and an overall improved life doesn't really have a price tag. And while it would be disappointing to spend the money and not see results, that's a chance we may have to take. 
Does Viome really work? There are many people who have seen extraordinary results with the service. This Viome Testing review appreciates that the brand offers single tests as well as plans, as a one-time test is more affordable and a good trial run for the brand in case you're skeptical.
Is Viome testing worth it? Viome is available in multiple countries, and we think it's great that results are uploaded onto an app that you can access anywhere at any time. After thoroughly surveying customer feedback, this Viome Testing review believes the brand is worth trying out.